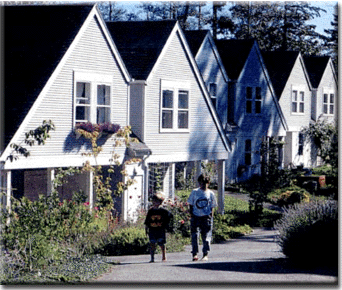 Imagine choosing your extended family in a setting of open space and shared values. Co-housing represents the idea of  intentional living. Co-housing originated first in Denmark in the 1960's as a way of creating a neighborhood community of all ages that shares a commitment towards living in an ecologically sensitive manner while embracing the individuals who make up the membership.
The general form of co-housing is that of a condominium, homeowners association or cooperative housing. Single family homes and condos are more readily financed by banks in the U.S. as opposed to cooperatives as the terms tend to be more acceptable for banks and lenders. Many communities share the preparation of meals in a large setting such as an extended family would present. These are optional but well attended to encourage the mixing of ages, experiences and to allow the free sharing of ideas and conversation.
Most co-housing communities require that each resident member participate in the functioning of the community. This could be as grounds and maintenance, administrative or other functions relating to the operation of the community. Generally each resident or member owns their own home but also shares ownership with the community property, grounds and the central meeting house.
Interviews for prospective members are thorough to assure that new residents are compatible with and share similar values and appreciate fully the functions required. Bainbridge Island is home to an excellent example of a co-housing community in Winslow. Search here for details. This is one of some twenty co-housing associations in Washington State. There are hundreds more nationwide. The setting for Winslow Co-Housing is 5.5 acres with 30 homes, a central Common House with a large dining room, kids area, fireplace, guest room and office. Located near the ferry terminal, schools, library and shopping the setting is ideal and the community owned green space and play fields are perfect for families with children.
Co-housing is a chosen life style, perhaps not for everyone but a viable option to anyone seeking a harmonious community where family, friends and neighbors are important. http://www.winslowcohousing.org/kcUnit.html