The Dayaalu Center, one of Bainbridge Island's beloved yoga and holistic body healing centers, will host an enchanting communal meal beneath the stars on Saturday, July 30th from 7 – 9 PM, as they join forces with the green Quince Blossom Kitchen to serve a four course, farm-to-fork dinner on their patio. Both of these holistic businesses focus on transforming body and mind through various mediums, ranging from plant-based meals prepared with love, to yoga, music, and meditation. The convergence of their missions, along with the missions of local farms, will culminate in a conscious dining experience that connects you deeply with your community, the land, and prana, the life force, which flows through these plants and transfers into your body through conscious consumption.
Quince Blossom Kitchen's Emily Abby Klein has been seasoned in many of Seattle's fine restaurants and is an up-and-coming caterer with a focus on simple and elegant plant-based meals. She will be utilizing the summer harvests of the island's local farms, abundant in fruits and vegetables of all varieties. By attending this farm-to-fork dinner, you will expand your culinary prowess of vegetarian meals and open the possibilities of healthy, clean eating, while supporting local farmers, dedicated to stewardship of the land and the practice of ecologically sustainable farming that utilizes natural landscape and nature's rhythm and cycles.
In addition to expanding your community and rejuvenating your relationship with plant-based food, the Farm-to-For Dinner with Quince Blossom Kitchen is expanding the scope of their mission by promoting egalitarian access to healthy, organic food for all, in partnership with downtown Seattle's Green Plate Special. A portion of the proceeds from the evening's dinner will be donated to this youth-centered educulture organization, bringing a hands-on farming experience to fourth- to eighth-graders. At Green Plate Special, kiddos learn about basic food and nutrition and grow from there, planting, growing, harvesting, cooking, and eating their own vegetables! In an urban setting—particularly low-income—access to organic food is difficult. This organization provides crucial gardening, health, and cooking skills that empower and inspire a healthier youth and sustainable future.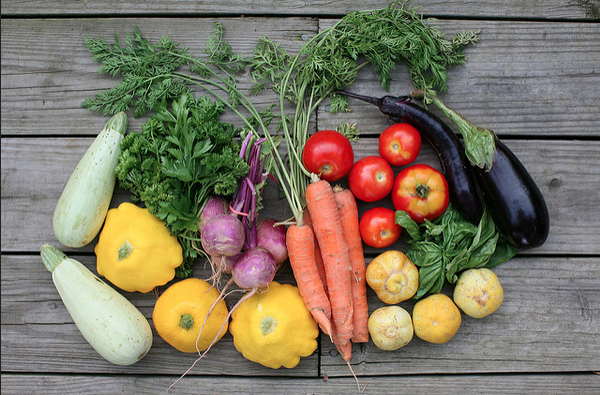 This joyous event is also meant to bring acquaintances and even strangers together around a table to celebrate in the space we call "home" with laughter, storytelling, skill-sharing, and general elation. The Dayaalu Center guides many on the path to mindfulness, raised consciousness, meditation, yoga and pilates, sound healing, and aryuvedic care, with a desire to "help us hear, see, smell, taste, touch, and move in ways that cultivate AWE-filled moments, compassionate engagement with life, and connections to self and others," according to their site.
If you want to participate in this conscious community meal, register here. Seats are $50 per person, which includes gratuity and taxes, as well as your contribution toward Green Plate Special. For four courses of local, organic food, prepared with love for you and your community, this is one meal you don't want to miss. Email Jeny at jeny@dayaalucenter.com or Emily at quinceblossomkitchen.org with additional questions.
It's summertime, the weather is fine, and opportunities to enjoy the sunshine with friends, family, and our pets are abundant! Join four- and two-legged friends at the beautiful Downtown Poulsbo Waterfront this Saturday, July 16, from 7 AM to 1 PM in order to support the Kitsap Humane Society (KHS) in their annual PetsWALK, a walk-or-run fundraiser, which includes vendors, live music, pet talent contests, pet costume contests, and games to help our furry friends at the animal shelter live happier lives.
Last year, PetsWALK 2015 broke record attendance, bringing together more than 400 walkers and runners (and 150 dogs) who participated in teams comprised of family, friends, coworkers, nonprofits, church groups—you name it! PetsWALK 2016 hopes to surpass both the fundraising and attendance for last year, so gather a team, register for the event, and join us in walking, running, or playing games in the name of KHS, sporting your PetsWALK t-shirt, free with registration. For extra fun, come with elaborate costumes for your team and pets, and join in the costume contest!
Choosing to fundraise for PetsWALK is easy and has fantastic prizes and rewards! Within two days of registering, you will be provided with a link to direct you to your own fundraising website, which can be personalized and even linked to your own sites and personal media, such as Facebook! Inspire your friends to donate to this crucial and fantastic cause—instead of buying a $5 mocha latte one morning, send that money to KHS, where that donation will be used to buy life-saving veterinary care, food, and so much more for these animals. Prizes for fundraising for KHS range from water bottles, pet bandanas, totes, baseball caps, hoodies, t-shirts and, wow, even an iPad for those who raise more than $2,500!
The fundraising goal for PetsWALK 2016 is $25,000, and KHS believes this goal is attainable with your help! While fundraising for the event is not a requirement, the incentives are high—Kistap Humane Society has spayed and neutered 2,301 animals in 2016 and rehomed 2,892. These sweet animals have been provided with food, medical care, shelter, and love by volunteers, veterinarians, and donations since the opening of KHS in 1908.
Due to the chaos around World War II, the KHS disbanded, but the need for an animal shelter only became more critical. During the war, the population of Kitsap County increased exponentially due in large part to military relocations, and with it, so did the animal population. When owners were relocated from Bremerton and the Kitsap area, many animals were left behind and, unfortunately, were often exterminated by law enforcement. Local animal advocate Almeda Harris Wilson saw a solution to this animal crisis and pushed for a revival of KHS in 1961, which succeeded due to support from county and city officials. Later in the sixties, the KHS was relocated to a brand new shelter in Charleston Beach because of a lack of space, which was then enlarged in 1971, but even the renovations were inadequate, and the shelter was relocated to a bigger property in 1989 in Silverdale, where it currently resides. Keeping this shelter open has not been easy, and it takes a village–or, in this case, a county—to thrive!
Like most, this independent, nonprofit, KHS functions solely on service, volunteering, and donations from fundraisers and private donors. Without events like PetsWALK raising money for KHS and similar shelters, it is unknown how Kitsap County would be forced to resolve stray or abandoned animals. Not only does KHS care for these animals, but they also match them to the perfect owners for a happily-ever-after that some never thought possible. Often, owners of shelter animals wonder, "Who adopted who?"
The shelter provides adoptions for dogs, cats, small animals, and occasional livestock, a Barn Cat Program, and fostering for injuured, traumatized, or young animals, as well as extensive veterinary care, such as microchips, spay and neutering, euthanasia, cremation, and vaccinations. Support can be offered to KHS through volunteering, personal donations, corporate donations, hosting a third-party event, In-Kind giving, planned giving, and bringing your friends and family to fun events such as PetsWALK!
Parking for the event will be provided by Gateway Fellowship in Poulsbo, and registration begins at 7:15 AM. If you're attending for the pet vendors, head to the Waterfront Park at 8:30 to get the first picks of all that the merchants have to offer. The walk begins at 9 AM at Lions Park (6th and Matson), and contests commence at 10:30 AM at the Main Stage. The awards ceremony will be held at 11:45 AM at the park, and the ceremony will close by 1 PM. Scroll to the bottom of KHS's PetsWALK event page to see the many sponsors and possible prizes you or our pet can enjoy! See you there!
Contributed by Christine St. Pierre