In an era shadowed by threats of environmental catastrophe, economic crisis, and social collapse, we are witnessing a mental shift in the next generation to whom the torch will be passed. By and large, the Millennials, born between 1980 and the new millennium, have been raised in a heavily consumer-centric society that has disassociated with the notion of living simply and sustainably off the land. As society wades deeper into these treacherous seas, communities have taken precautionary steps to keep themselves afloat.
Millennials are rising to the challenge by transitioning into a way of living that reclaims traditions long ago abandoned at the risk of being lost forever, traditions like homesteading, permaculture, fiber and textile production, natural medicine, and sustainable agriculture. As the price of produce and meat increases, so does the shift toward community gardening, urban farming, and agricultural education. Call it nostalgia for a romantically rustic way of life or call it necessity; either way, the growing trend in our generation, and in general, is growing organic food.
On this island, there is no shortage of small-scale farms with a focus on organic food that is grown in healthy rotation with the seasons. These farms, which foster deep community roots and innovative approaches to energy efficiency, such as natural irrigation and solar power, are staffed by pockets of Millennials with a passion for connecting to the earth and growing organic food that nourishes their bodies and the environment.
Nearly all farms on Bainbridge Island are supported by a crew of Millennials driven either by devotion or curiosity, and from what I've experienced, they're really wonderful people—they're my friends. With lives that can be mapped across the globe, these young farmers make up a colorful portion of this community, contributing music, art, and, well, food, that keep Bainbridge Island moving forward. With long, exhausting days in the sun and an intense summer push, they're hard to find out on the town, but rather at intimate potlucks and picking sessions around a bonfire surrounded by fields of slow growing produce.
You've seen them bouncing between mud-caked work trucks and local restaurants with bins of fresh produce; you've smiled at them at the farmer's market as they explain how to perfectly massage your kale for dinner tonight. They're rugged and tan, with soil stained fingertips and disheveled hair hidden beneath a wool cap. They travel across the country with all of their belongings packed into their hatchback making stops at farms along the way. They conduct educulture programs aimed at introducing young children to the art of farming organic food and give property tours that showcase their happy plant and livestock production. They're WWOOFers, interns, grantees, dreamers, spearheads; they are the future of a newfound relationship with food that just might save us all.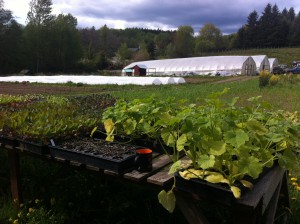 The airport flooded, the highways packed, hotels booked, and sidewalks buzzed with over 250,000 folks from around the world who had arrived in Seattle to enjoy and participate in our annual free festival, Northwest FolkLife. The independent nonprofit organization has held this event in Seattle Center over Memorial Day weekend since 1972, drawing a crowd that consists of diverse cultures and backgrounds for four jam-packed days of music, participatory dancing, cultural showcases, food, and workshops. Local artists shared stages with international names to bring four days of non-stop entertainment; if you were to attend each event to its fullest, it would take 28 days consecutive days to experience!
Gospel, bluegrass, world music, elementary school choirs, local singer/songwriters, funk, country, electronic, Native drum circles, and reggae—the list of music genres is nearly as long as the list of performers squeezed into the festival. On some stages, world dance performers featured traditional ethnic dance to the live music of their culture, while other stages hosted performers getting the dance started in the heart of the crowd until nearly everyone was on their feet. Sunday's Mosaic Stage featured a full day of reggae, ending with Seattle's Clinton Fearon & The Boogie Brown Band, a festival staple for more than 20 years and longtime, long-loved reggae group in Seattle.
At Northwest FolkLife, diverse music isn't the only thing flooding your senses. The smell of funnel cake and ethnic food lingers in the air, swirling with the cool mist from the international fountain beneath the shade of the Space Needle. Children with vibrant face paint zigzagged through the crowds, cotton candy in hand. Some folks rested in the shade, watching collections of hula-hoopers and fearless dancers move to the sounds of the music from onstage. Others enjoyed each others company in the beer gardens featuring organic and gluten free options.
Vendors line the walkways with unique booths and colorful crafts reminiscent of a bohemian street fair. I watched woodworkers, jewelers, batik artists, and clothing designers charm envious customers as I strolled through, savoring the vegetarian sambusa I ordered for lunch from Portland's Horn of Africa, which serves traditional food from the coast of Northeast Africa. As I wandered into the Fisher Pavilion, lured by the sound of strumming fiddles and tapping feet, to my surprise I caught sight of hundreds of smiling faces dancing in synch. This contra extravaganza draws many generations of contra dancers year after year to experience the folk tradition of contra dancing with a diverse crowd. Beginners are urged to dance with a drastic wave of the arm by red-faced, panting elders who are willing and eager to teach starry-eyed onlookers the ways of contra. I wasn't brave enough to try, but I felt the energy from the sidelines and smiled along with everyone.
The greatest thing about this festival? It's free to anyone, even if you haven't a penny to spare. You'll find buskers, travelers, and aspiring musicians putting it all on the line between stages, food carts, and craft stands with an instrument or two, an upside down hat with a sign that says "anything helps," and a passion for music shared by all in attendance. In the crowds, you'll find local legends, students, neighbors, homeless, out-of-towners, sailors, young families, artists, pockets of pre-teens, and every other walk of life. Judgment is laid to rest at the entrance, and everyone enters on the same level. It's a wonderfully inclusive festival fueled by the donations of the able and the energy of the willing. Staffed by over 6,000 volunteer performers and 800 volunteers (yes, performers all volunteer!), this is truly a celebration of Northwest culture and togetherness.