The winter doldrums are fading and what better way to celebrate than diving into the Bainbridge Island art scene? Classes and shows abound with a sharp focus on the world class talent that calls the Puget Sound region home.
The Winslow Arts Center is presenting classes for all ages in painting, drawing, calligraphy, mixed media and much more. Taught by regionally and nationally recognized artists and instructors at the Center's intimate studio which is easily accessible from Bainbridge Island or the entire region. If it's time to learn something new or dust off rusty skills this is the place to start.
Opening in mid-June the exciting Bainbridge Island Art Museum will bring an eclectic mix of regional artists for display. With an auditorium and classrooms available this will be an welcome addition to the regional arts milieu. The new museum is a work in progress and much remains to be done.
The Bainbridge Island Arts and Humanities Council, has since 1986 provided an umbrella organization fostering art and culture on Bainbridge. The Council provides a funding source through its grants and awards programs to encourage the growth of humanities and art throughout the island. Offering award winning art education to youth, sponsoring film makers, poetry and facilitating Art in Public exhibits and installations the Council seeks to enrich the lives of everyone touched by the island's way of life.
A highlight of the summer is the August 9th through 11th Bainbridge Island Studio Tour. A self guided tour, accessible by bicycle, visit more than 50 participating studios. Meet the artists see works in progress, tools and raw materials. Explore the creative and perhaps be inspired to release some of your own. Be prepared to enjoy the fine foods available along the way and perhaps return home with something beautiful that has spoken to you and is irresistible.
It's that time again. The Bainbridge Island Farmer's Market is back! Opening this Saturday, April 13th at the Town Square from 9:00 am to 1:00 pm. Come to meet, greet and enjoy the fresh produce available in a fun and family friendly setting.
Old favorites who are returning this year include  Butler Green Farms, Persephone Farm, Farmhouse Organics, Baywater Shellfish, Paulson Farms, Tani Creek Farm and Laughing Crow Farm. These and many other locally sourced organic growers are here to provide the freshest meats and produce possible. For a full listing of the vendors click here This details who and what will be available.
Another outstanding resource for natural and organic farm producers, nationally, not just for the Northwest is here This is an easily navigated site where one can explore the bounty of organics to choose the healthiest and freshest in produce. There are also links to purchase on line from a large number of members as well as the ability to subscribe for CSA's.
CSA? Community Supported Agriculture. The idea is for the producer to offer a certain number of "shares", to the public. This may be in the form of a box of vegetables or other farm products, honey, fresh organic meat, or herbs and flowers. Each subscriber will receive a box of the fresh products weekly through the farming season. The advantages work both for the farmer and consumer.
For the farmer they get to spend time marketing their products before moving into 16 hour days in the fields. They receive payment early in the season which helps with the cash flow and most importantly they get to meet and know the people who will consume their produce.
The subscriber gets ultra fresh produce and exposure to new vegetables and ways of cooking. Typically you will visit the farm at least once a season to witness the process in the fields. This also allows the consumer to develop a relationship with the grower. Many kids are found to favor, "Their" farm and will be more open to trying new foods from there that would be perhaps unknown to them otherwise.
With the spring and summer upon us it's time to get out, explore what's new and organic at the farmer's market. Meet the producers try something new, fresh and healthy.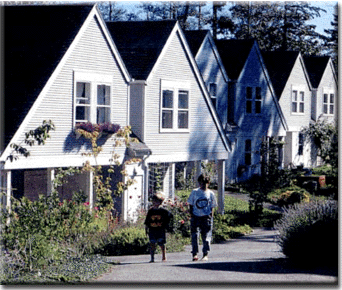 Imagine choosing your extended family in a setting of open space and shared values. Co-housing represents the idea of  intentional living. Co-housing originated first in Denmark in the 1960's as a way of creating a neighborhood community of all ages that shares a commitment towards living in an ecologically sensitive manner while embracing the individuals who make up the membership.
The general form of co-housing is that of a condominium, homeowners association or cooperative housing. Single family homes and condos are more readily financed by banks in the U.S. as opposed to cooperatives as the terms tend to be more acceptable for banks and lenders. Many communities share the preparation of meals in a large setting such as an extended family would present. These are optional but well attended to encourage the mixing of ages, experiences and to allow the free sharing of ideas and conversation.
Most co-housing communities require that each resident member participate in the functioning of the community. This could be as grounds and maintenance, administrative or other functions relating to the operation of the community. Generally each resident or member owns their own home but also shares ownership with the community property, grounds and the central meeting house.
Interviews for prospective members are thorough to assure that new residents are compatible with and share similar values and appreciate fully the functions required. Bainbridge Island is home to an excellent example of a co-housing community in Winslow. Search here for details. This is one of some twenty co-housing associations in Washington State. There are hundreds more nationwide. The setting for Winslow Co-Housing is 5.5 acres with 30 homes, a central Common House with a large dining room, kids area, fireplace, guest room and office. Located near the ferry terminal, schools, library and shopping the setting is ideal and the community owned green space and play fields are perfect for families with children.
Co-housing is a chosen life style, perhaps not for everyone but a viable option to anyone seeking a harmonious community where family, friends and neighbors are important. http://www.winslowcohousing.org/kcUnit.html