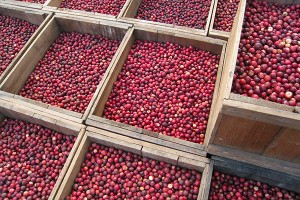 Campaign Ends May 28th!
Starvation Alley cranberry farm & juice company is raising funds for a high-volume juice press and bottling line that will help scale its juice production to 6X the current capacity. Over the past three years, Starvation Alley has become the go to source for Organic cranberries in the Northwest. As Washington State's one-and-only certified organic cranberry farm, Starvation Alley is not only growing sustainable, local fruit, but is making it possible for other Northwest farmers to join them. They buy fruit from two neighboring farms (that are half way through the rigorous 3-year process of converting to organic) to produce a 100% pure unsweetened cranberry juice that is unlike anything else you can find on the market. Recently, Starvation Alley repaid it's first Community Sourced Capital loan of $12,000 for a hydraulic juice press. This loan helped Starvation Alley grow to add 2 new farmers as suppliers and an additional 5 jobs local to the PNW. With the added production capacity possible from this next stage of funding the farm will be able to continue to increase its positive impact in the farming community.
Starvation Alley's production kitchen is located on the Long Beach Peninsula in Southwest, WA. and produces about 8,000 gallons of cranberry juice a year. "Starvation Alley" is a historic road on the Peninsula that was home to hard-working oyster and cranberry laborers. They kept the name as an ode to those that came before them.  We hope you'll consider participating Find the campaign page through Community Sourced Capital here.
Starvation Alley's mission is to support local farmer livelihood. They do this by paying great prices and aiding in the tough transition from conventional to organic growing. This loan will help them reach their next business milestone of adding an additional local farmer and creating a killer retail product that's available to Northwest consumers.
Harbour Pub serves Starvation Alley cranberry juice exclusively and adds whole berries to its relishes and salad specials. Help us to help them!
Holidays are wonderful. They bring a sense of community, anticipation, joy, and creativity into what would otherwise be just another day, week, month, or season. We celebrate birthdays, parents, children, veterans, love, patriotism, leprechauns, ghosts and goblins—wait, what? As credible as most recognized holidays are, we still tend to get a little weird when it comes to what—and how—we celebrate. Seeing as summer is a stretch of the year with fewer nationally recognized holidays, here is an all-encompassing list of bizarre holidays we can all look forward to (and maybe start a new, weird holiday tradition of your own):
May 16: National Sea Monkey Day—fun fact, Sea Monkeys have three eyes and breathe through their feet! Celebrate these strange, playful brine shrimp.
June 6: National Yo-Yo Day—it's believed that the Yo-Yo was first invented in Ancient Greece. Today is the one day of the year where you're not a weirdo for "walking the dog" till the sun goes down. Take advantage!
June 18: International Picnic Day—what was once a pastime for the Victorian bourgeoisie is now everyone's favorite way to celebrate food in the great outdoors. Bon appetit!
June 25: National Catfish Day—President Ronald Reagan designated this holiday in 1987. We are serious about our catfish in this country. Who's got my cornmeal?

July 2: I Forgot Day—a chance to make up for forgotten birthdays, anniversaries, or even the days you may forget in the future! Apologize belatedly or in advance on this glorious occasion.
July 7: National Strawberry Sundae Day, Macaroni Day, and Tell the Truth Day—be honest, who ate all of my macaroni and ice cream?
July 22: National Hammock Day—a reminder to slow down, breathe easy, and enjoy life: relaxxx.
August 7: National Lighthouse Day—an act that was approved by Congress in 1789 to gather support for the "establishment of lighthouses, beacons, buoys, and public piers."
August 13: Left Handers Day—raise awareness of the everyday issues that lefties face in a world designed for right-handers. "I may be left-handed, but I'm always right!"
August 20: National Radio Day—we've all got'm, we all use'm. Celebrate them today!
August 31: National Trail Mix Day—also known as National Pacific Northwesterners' Day. Just kidding. But seriously…
September 5: National Cheese Pizza Day—THERE IS A GOD.
September 15: National "Make A Hat" Day—a beloved holiday recognized by teachers of our little ones. Plus, why not?
September 22: Elephant Appreciation Day—female elephants are pregnant for almost two full years. C'mon.
And, if you're really into this, the following list has got you covered until the new year! Any reason to celebrate, right?
October 3: Techies Day
October 17: "Wear Something Gaudy" Day
October 25: "Punk For a Day" Day
November 3: National Sandwih Day
November 15: Clean Out Your Refrigerator Day
November 29: Square Dance Day
December 4: "Wear Brown Shoes" Day
December 9: National Pastry Day—ummm, yes? Enough said!
December 18: "Bake Cookies" Day
Contributed by Christine St. Pierre

Contributed By Christine St. Pierre
The day has come, the one we have set aside to express our gratitude and love for our mothers. Of course, every day is Mother's Day, but, today especially, is when we show her how amazed and inspired and humbled we are by her. Purchasing a gift can do a lot of things, but anyone can buy anything. This year, write her something that expresses her importance. If she's anything like my mother, she'll say, "Oh, honey, your love is all I need on Mother's Day," which she probably believes—until she reads the incredible poem you wrote.
Many of you talented artists, thinkers, writers, do-ers already have Mother's Day covered. I get that. You've made the breakfast, picked the flowers, planned the picnic, arranged the surprise, wrapped the gifts, called in the reservation. That doesn't mean you're done! A poem can be slipped behind her morning coffee mug, under her pillow, placed on her dashboard—are you writing these ideas down?
A poem tomorrow morning, next weekend, or next month will express your gratitude for her life's work just the same as it will today. So, read the following poems that I wrote to generate some themes or ideas, and, if you'd like, you can use them as a template to which you can add your own memories and connections to the mothers in your life! Happy writing. And Happy Mother's Day!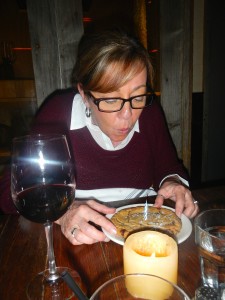 Poem 1:
To Every Mother
Who carried life inside her; who devoted her body to a child she loved unconditionally; who walked slowly, one arm resting on top of her round belly, the other cradling it tenderly: thank you.
To every mother who used her hand to wipe spit-up; who gets out the video camera instead of the cleaning supplies; who marks the door frame inch by inch, every year, as her little one grows into a six foot tall eating and sleeping machine: thank you.
To every mother whose wildest dream in life is to watch her child succeed in their own; who fights back tears when the old family car is loaded to the brim, headed out into the world; who thinks about her child every single moment of every single day: thank you.
To every mother: thank you.
Poem 2:
Sunflower Mother
I am
moss and mud eyes, depths unseen;
your reflection in the rippling river
beneath the forest canopy.
I am
veins, risen and pulsing
atop earth-soaked hands; the
wild mountain ranges,
fertile valleys,
barren deserts
stretched infinitely between us.
I am
warmth from the night's fire;
my head pressed into your chest;
walking to the rhythm of your heartbeat
as I venture beyond, unafraid, alone.
But never alone
because
I am
loved and
surrounded by
you.