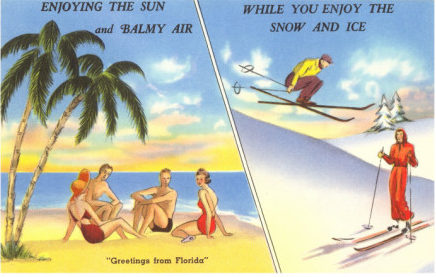 Contributed by Christine St. Pierre
It's late February in the Pacific Northwest. Temperatures have been hovering between 35 and 50 degrees for months now, and the diversity in our weather patterns amounts to different varieties of rain: scattered sprinkles, sun rain, spitting, misty rain, fat rain that falls hard, little beads that fall harder, dry rain that magically avoids you, cold rain that soaks your clothes and chills your bones. With all these different types of rain, one thing remains the same: it just doesn't stop.
Don't get me wrong—rain is healing, calming, and brings about the abundance of life in the dripping, mossy forests, white-topped mountain ranges, and rocky coastal shores of the upper left. Constantly changing cloud formations create a beautiful backdrop of depth and shape in the sky. The snow-capped mountains provide fantastic opportunities for adventure. But, the bottom line is, I'm still wearing thirteen layers of merino wool, and, usually, still wet and cold. Sometimes—and I know I'm not alone in this—I need a tropical vacation.
Psychologically, vacations are an all-healer. Preparing to leave is exciting, vacationing is relaxing and fulfilling, and the comedown is gentle when you're bouncing blissful memories around in your mind. That's why I enjoy the pleasures of a tropical vacation without having to leave the comfort of my home. How? Tricking myself into believing it. It might sound crazy, but it actually works.
The key component of a successful pretend tropical vacation in Washington in mid-February is believing. Around every half hour of my fake-ation, I stop and think to myself, I'm in Hawai'i. There are palm trees and rainbows and waves breaking in crystal clear blue water just outside my window. It's hot, and people are eating mangos and shaved ice in flip flops. Later, I'm going to read a book in a hammock on the beach with a banana daiquiri in my hands. And it will be amazing. Then, I commit myself to the following habits of happy tropical-vacationers.
Rise and Reggae. Whether it's raining or shining outside, the inside of your home can always feel colorful and bright. After you rise from bed and stretch for ten minutes (see: New Years Resolutions article), head to your music-playing device and set the dial to some upbeat, soulful reggae music. I suggest Clinton Fearon and the Boogie Brown Band on Pandora, a Seattle-living, Jamaican-born reggae artist who exudes humanity and love through his lively songs. Let the island music sway your hips and stretch your smile as you dance about your home from room to room with your loved ones. Sway your way into the kitchen to start a pot of fresh coffee for the first of many fake-ation reggae mornings.
This brings me to my next point: Listen to World Music. Moods are enhanced by sensory stimulation. Sleepy days are made sleepier with the addition of melancholy instrumental music. Workouts are made more intense with harder, heavier music blasting into your ear. And, sunny days are made that much happier with feel-good music. So, make your day feel more cultured and international with island music or world music playing in your headphones, car speakers, in your home, and whenever you need a reminder that there are sunny, tropical places in the world with unique cultures.
A Dash of Summer Clothes. Once, I met a woman with the most flamboyant and colorful wardrobe. She never had fewer than three bright colors on at once, and always with exotic earrings, a matching or mismatched necklace, and beautiful rings on her fingers. She was in her mid-fifties and lived in a small, equally colorful home in Portland, decorated with artifacts from cultures across the globe. The most colorful thing about her? Her personality. She seemed, in herself, a vessel of optimism, health, and happiness. She knows how to live a positive, colorful life. So, as I dressed with bubbly reggae beats coming from my loudspeakers, I took a page from this woman's book by opening my box of summer clothes in mid-January. Summer skirts, playful blouses, and colorful jewelry made their way back into my wardrobe. Instead of my usual winter garb of black on black with a touch of brown, I've decided that each and every outfit should remind me of sunny days, so I mix bright skirts with leggings and boots, summer dresses with cozy sweaters, dangly earrings under my wool hat.
Spa Treatment. Showers mean two things for me: relaxation or hygiene. It's not the most sustainable way to cleanse, but when I'm truly in need of some serious self-care, relaxation, and bliss, I take to the tub with candles, music, a lamp, book, glass of water (or wine), oils, and a good thirty minutes to an hour to dedicate to my home spa. Sometimes, it's a bath; other times, a steamy shower. Either way, it's important take time with your self and your body—imagine you're at a spa and give yourself the foot rub of your dreams. Sit in a hot bath and soak as if you're sitting in a hot spring in the jungle. Fill your bathroom with steam and exfoliate your dry winter skin. If you want to take it to the next level, switch your shower water from hot to cold every few minutes to get the invigorating affect of a hot shower as well as a cold waterfall cascading from the sea cliff. You'll feel rested, relaxed, and rejuvenated: a new way to look at RRR.
Cook Healthier, Eat Happier. When on vacation we certainly spoil ourselves with treats, but we also tend to eat healthier meals with fresher ingredients. Many eat fruits, vegetables, and meats local to the area. So, next time you head to your local grocer, take a break from eating heavy winter foods or what's locally in-season, and buy those pineapples, mangos, avocados, star fruits, and gorgeous hunks of fresh fish! After your fresh and colorful meal, treat yourself to a fruity dessert treat. Take this freshness a step farther by steeping your cool water in refreshing fruits or veggies like cucumber, strawberries, and lemon.
Bye-Bye Malts, Hello Daiquiris! Speaking of fruity treats, spend some time getting to know those beloved daiquiris that we tend to enjoy solely on a sunny beach. And I'm not just talking about the daiquiri-slush concentrates you can get at the store. With all of those fresh fruits you've purchased, crack open a bottle of rum and enjoy Cuba's famous drink straight from the blender. Fresh fruits like bananas, coconuts, pineapple, mango, and local berry varieties make for the perfect replacement for those many craft beers from the Pacific Northwest. We do love our beer, but beer isn't half as cheerful as a mixed drink with a tiny pink umbrella hanging from the top.
Live Aloha. In the Hawaiian language, "aloha" means many things, such as love, affection, compassion, mercy, sympathy, pity, kindness, and grace. "Living aloha" is the coordination of mind and heart within each person. It brings each person to the self. When adopting the mentality of "living aloha," we see a slight shift in lifestyle that also creates a shift in our outlook on life. We see the beauty in each person. We begin to see life through rainbow-colored glasses. The little joys in life are enough to feel like the biggest joys in life, and happiness, creativity, and energy levels go through the roof. This process helps remind us of all of the beauty in the world—and not just at the beach.
Sure, this is a fun exercise in transporting ourselves across the globe with a slight shift in consciousness, but this is also a reminder that life is so much more than good—it's beautiful—and that, even in the dead of winter, life can be a tropical paradise.