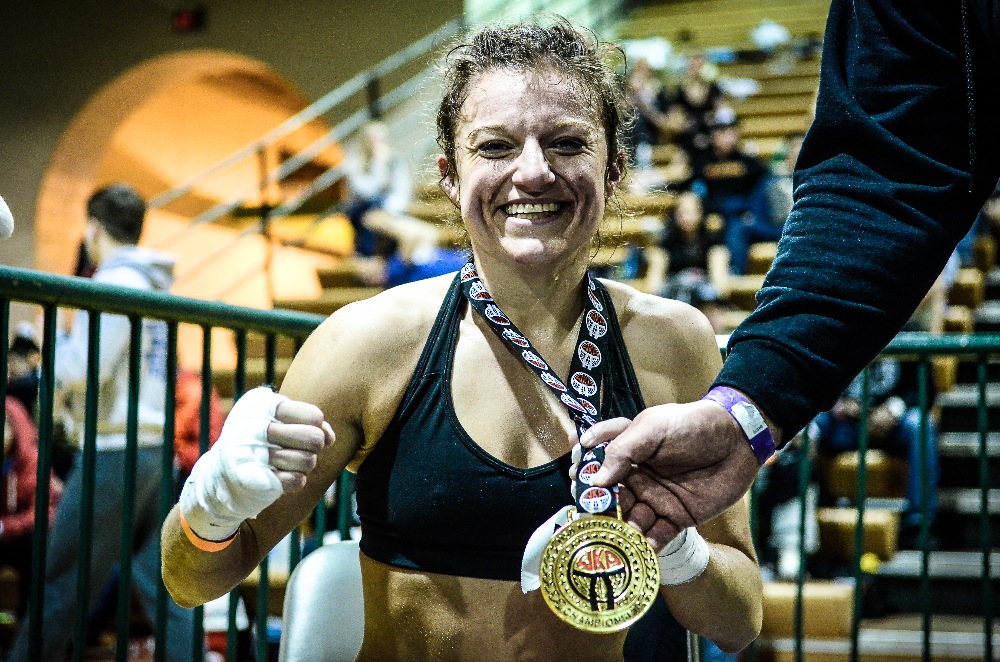 One of the unique things about Bainbridge Island is that it still exhibits diverse pursuits within the community.
While you may have gotten to know Laura Swanson from her bartending and serving shifts here at the pub, you may not have known that she is a reigning World Kickboxing Association (WKA) National Champion. When she's not working, she's committed to a grueling two to three times a DAY training schedule at Bainbridge Boxing.
Bainbridge Boxing, currently undefeated and owned by Ben Little (who ironically is XL) opened back in 2010. Before then, Bainbridge hadn't seen boxing since 1907.  Laura isn't the only champ Ben has trained.
Josh Soliva, another fighter from Bainbridge Boxing, the current 145 lb. KOA super fight belt holder, is also the National Champion for his weight class. Both Josh and Laura traveled to Richmond, Virginia back in March to compete in the WKA National Championships. Both won spots on the 2015 United States national team for the WKA World Competition.
Laura's first fight was for a Kitsap Humane Society fundraiser at Bainbridge Boxing in 2012.  Laura found a perfect fit in competing and decided to take her fighting career to the next level. She started being matched up for more fights and eventually made her way to Nationals to earn her current title as WKA National Champion.
Bainbridge Boxing could not have gone to Nationals without the generousity of friends and family. When Josh and Laura won, so did all of their supporters. Getting to the world championships is going to take the same outpouring of support.

Many may not know but the boxing club also serves as a home to at-risk youth on the island as well as kids and adults who haven't found conventional team sports to be fulfilling. Coach Ben keeps the gym running mostly out of his own pocket. If students can't afford to pay, he has them sweep or mop up after practice.
Now the champs humbly ask for your help to send the Bainbridge Boxing Fight Team to win a world championship. The five-day competition will be held in Spain and expenses for the two fighters and their two coaches will add up quickly. The gym needs to raise the money by September in order to pay airfare and other travel expenses for Laura and Josh to compete for world titles and bring the unique distinction of world champions back to the Bainbridge Island community.
Any amount you can donate will help the Bainbridge Boxing Fight Team get that much closer to their goal. If you want to help Laura and Josh represent Bainbridge Island in the WKA World Championships, please donate to their Go Fund Me campaign at: