Washington Cranberrys and Oysters
SOUTHWEST WA GROWS BOTH
—
A DELICATE BALANCE
—
LONG BEACH, WA – Located at the southwest corner of WA state above the mouth of the Columbia River, the Willapa Bay ecosystem — the estuary and the forested uplands whose fresh waters mix with the tidal surges of the bay — is the most productive coastal ecosystem remaining in the continental United States. One of every six oysters consumed in the United States grows on Willapa's tideflats. Pacific salmon, Dungeness crab, and several species of clams also abound in the bay. Nowhere in the Northwest do conifers grow faster, and cranberry bogs, cattle ranches, and dairy farms attest to the land's fertility.

Willapa's 19,000 year-round human residents depend on livelihoods rooted in the productive abundance of its lands and waters. Nearly two-thirds of the land in the Willapa Bay watershed is commercial forestland. Farms and irrigated lands together make up another seven percent, including the 1,700 acres of bogs in the Willapa area that account for virtually all of the state's harvest of cranberries. Oysters are cultivated on nearly 10,000 acres of privately owned or leased tidelands, and three species of Pacific salmon that return to spawn in Willapa's streams are caught by commercial fishermen in the open waters of the bay.
Oystering, the centerpiece of Willapa's tideland enterprises, actually enhances the diversity of the estuary. Oyster beds on the tideflats provide habitat for crabs, eelgrass, algae, and many marine invertebrates essential to a healthy ecosystem. Oysters also filter water as they feed, improving water quality for young fish in the shallows. Oystering suggests an ideal for sustainable enterprises: it profits while enhancing the diversity and productivity of the ecosystem as a whole.
Many of the people of Willapa Bay recognize that a healthy ecosystem goes hand in hand with a healthy local economy. Willapa is the kind of place where a sustainable local economy — one that harvests the abundance of an extraordinary ecosystem while maintaining its diversity and integrity — ought to be possible. Yet, recent years have been difficult ones for Willapa's communities. The four counties that share the ecosystem (Pacific, Grays Harbor, Lewis, and Wahkiakum) are among the most economically depressed in Washington state. Enter Starvation Alley Farm:

Starvation Alley Farm
While at first blush, the name 'Starvation Alley' may seem a bit pessimistic for a farm, but according to Jessika Tantisook the nickname was given to their road back during the Great Depression. It was where many of the migrant farm workers lived and congregated. "We're honoring their hard work as well as the hard work still being done for good food by using the name for our farm.
continued next column->

BAINBRIDGE
ISLAND MERROIR
—
Like 'Terroir' But
More Watery

The French word "terroir" refers to the unique flavors and qualities that a growing region imparts on the products raised there. It's a phrase most often used by vintners, chocolatiers and coffee geeks to describe the area-specific notes that separate similar products sourced from different locales, but now oyster farmers are co-opting the phrase and making it their own.

The Port Madison Community Shellfish Farm (PMCSF), located on the Bloedel Reserve tidelands is Puget Sound Restoration Fund's (PSRF) Bainbridge farm. The PMCSF seeks to connect community members directly with the benefits of a healthy watershed by growing, harvesting and eating community grown clams and oysters... Bainbridge Island's Merroir. Growing shellfish has many environmental benefits, including improved water quality, species diversity and eelgrass growth. In fact, a single oyster can filter 20 gallons of water a day. Shellfish can be part of the solution to cleaning up Puget Sound. Like others involved in the local food movement PSRF believes.

this positive connection between you, your environment and your dinner plate is the key to active and enjoyable environmental stewardship.


Since the opening 2010 season, CSA membership has increased every year as more and more Bainbridge residents are building a connection to their marine resources and renewing their commitment to clean water and healthy shorelines. During the 2012 season PMCSF harvested 483 dozen oysters for 47 loyal CSA members and they'd like to grow even more.

PMCSF treats CSA members with five harvests between March and July of the delicious Port Madison Petites! Pass the word along to your family, friends and neighbors and be a part of this growing community of oyster lovers.



Jessika is part of a dual generation of partners working for the third year in transitioning 10 acres of cranberry bogs into a USDA certified organic farm... something that may have been attempted, but never achieved on the Long Beach Peninsula or in the state of Washington. Jared Oakes and Jared's parents, John and Debbie, form the rest of the partnership on bogs that were acquired next to John and Debbie's home.
While both Jessika and Jared have experience in organic farming, neither knew much about cranberries when they moved to the Peninsula to take over the bogs. Regardless, there was never any doubt that they needed to farm the bogs organically. Their common interest in the "Slow Food" movement has turned into a passion for helping it 'grow' through their efforts at bringing organic cranberries to market.
Ocean Spray has a growers cooperative that all the farmers on the Long Beach Peninsula belong to except two... Starvation Alley and one other. Pushing cranberries since 1930, Ocean Spray is the largest distributor of cranberry products in the US. But in spite of its prominence, Ocean Spray does not currently offer organic cranberry products.
Starvation Alley found breaking away from the cooperative was necessary so that they could see a beteer return on their efforts. Compared to Ocean Spray cooperative farmers earning 60 cents per pound, organic cranberries can earn closer to $3 per pound.
Starvation Alley has been pressing and bottling its juice as "Cranberry for Concoctions". It is known for what it isn't... it's not sweetened, it has no additives including water or other fruit juices, it is unpasteurized and only sold in the Pacific Northwest mainly to bars and restaurants and a monthly CSA.
Armed with an MBA in Sustainable Business from Bainbridge Island's, Bainbridge Graduate Institute (BGI), Jessika has brought more than just herself to the family-run operation. Many of her classmates and friends from BGI have contributed work party hours to the farm's many projects. From helping with the harvest to building composting toilets and habitat for pollinators, to marketing and distribution consultations, their community of friends has been helpful.
BGI graduates Casey Dilloway, Rachel Maxwell and Alex Mondau, also have contributed themselves through their own venture, Community Sourced Capital (CSC). Through the unique lending program that CSC has developed, the farm was able to borrow $12,000 for a new hydraulic juice press. Buying the juicer will save them from making monthly trips to use a press in Portland, 110 miles from the farm. It also could open opportunities for other farmers to follow Jared and Jessika in their organic farming efforts by providing an alternative local market.
The farm has received some support by the Washington State University (WSU) Long Beach Extension as well as the USDA Natural Resources Conservation Service too. Kim Patten, a one man team that comprises the WSU Long Beach Extension, has studied cranberries in the Long Beach region for 23 years. He sums up his opinion of Jared and Jessika by stating that "They are a delight to work with bringing an infectious enthusiasm that he quite admires. To bring about wholesale change, you need people like them." Learn more at starvationalleyfarms.com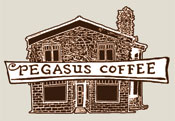 est. 1980


est. 1991

est. 1982
HARBOUR MARINA HOSTS FESTIVAL
UNIQUELY BAINBRIDGE
The organizing committee of Bainbridge wooden boat enthusiasts lead by Bob Schoonmaker, owner of The Chandlery have committed their talents to creating another wooden boat party. The first was held in June of 2011 and was an amazing success. 2013's festival promises boats that were not in the 2011 show. To qualify for inclusion in the event a boat or owner must be from Bainbridge Island. "This keeps the event to a manageable size and it gives the festival a uniquely local flavor that both the participants and the visiting public seem to really enjoy," claims Schoonmaker. During May, June & July also enjoy the Pub's art show of photos of the famed Neil Rabinowitz, also a member of the organizing committee.